Auto Accidents Caused by Distracted Driving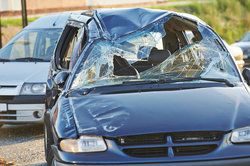 As unfortunate as it is, the fact is that driving (which many people do on a daily basis) can be a very dangerous activity. Each day, drivers and passengers are injured, or killed, in auto accidents. Car accidents can damage property and may injure those involved, and victims are likely to incur a number of financial and personal hardships. While financial compensation cannot erase the damage caused by an auto accident, it can relieve some of the burdens faced by victims of these collisions. That is why the auto accident attorneys at Tawwater Law Firm fight so diligently for those who have been injured due to the reckless or negligent decisions of another driver. One of the leading causes of auto accidents today is distracted driving. Among our Oklahoma City clients, we have seen many auto accidents caused by distracted driving, and we understand the dangerous effects of these actions.
What Is Distracted Driving?
Because it is such a broad term, many people are not familiar with what qualifies as distracted driving. In short, distracted driving applies to any situation in which an individual, while driving, performs another task that takes their attention away from driving. There are generally three categories of distracted driving that can impair a person's ability to safely operate a motor vehicle. Below are the three types of distracted driving, as well as examples of each case:
Visual distraction: A visual distraction describes any task that takes a person's eyes off of the road. This may include reading, looking down at the radio, turning to look at another passenger, checking e-mails, or reading text messages.
Manual distraction: Manual distractions are those that cause the driver to take either one or both hands off of the steering wheel. Manual distractions include visual distractions such as texting, changing the radio station, eating, or reaching for something in another part of the car.
Cognitive distraction: A cognitive distraction describes any action that takes a person's mind off of driving. This most typically refers to talking or messing around with other passengers and is a particular problem for teen drivers.
Dangers of Distracted Driving
When driving, a person must keep their attention and eyes on the road, watching for dangerous situations, and maneuvering in the case of a collision or obstruction in the road. Distracted driving inhibits these abilities and has been proven to increase the risk of an auto accident. In fact, studies show that in 2012 alone, more than 3,000 drivers were killed in crashes that were caused by distracted driving. Unfortunately, with so much technology at our fingertips, this number is likely to grow.
Collecting Compensation
Drivers who have been injured in a car accident that was caused by distracted driving have the right to seek financial compensation for damages suffered. Our attorneys understand the dangers of distracted driving and are experienced in proving fault in these cases so that our clients can collect fair compensation for damages such as medical expenses and lost wages. We are happy to assist those who have suffered due to the reckless actions of another driver.
Contact Us
If you've been injured in an auto accident and would like to learn more about your legal rights for collecting financial compensation, contact us at your earliest convenience. The attorneys at Tawwater Law Firm have represented clients who have been injured in car accidents and we are eager to help you. We look forward to hearing from you.
Related to This