The Risk of Auto Accidents Involving Seniors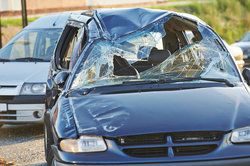 The roads can be a dangerous place. Every year millions of drivers are involved in serious auto accidents. These car accidents may result in serious damage to person and property, and are likely to put a lot of emotional and financial strain on those who have been involved. While anyone can be involved in an automobile accident, evidence does show that there are groups of people who are at a higher risk of involvement in an auto accident, and this includes senior citizens. At Tawwater Law Firm in Oklahoma City, we understand the risks of auto accidents and seniors. Our auto accident attorneys have a great deal of experience in representing the victims of auto accidents involving seniors, whether those victims were injured as the result of a senior driver or whether the victim is a senior citizen himself who has experienced significant injuries from the accident.
Risks of Auto Accidents Involving Seniors
There are many factors that may contribute to an auto accident, and these include distracted driving, driving under the influence, or making reckless driving decisions (such as speeding and unsafe lane changing), just to name a few. Another factor that has been shown to affect the odds of an auto accident occurring is age. While age is not a singular factor that contributes to car accidents, evidence does show that younger teen drivers and senior drivers (those over the age of 70) are more likely to be involved in an automobile accident. While senior citizens are shown to account for roughly 9 percent of the population, they are involved in close to 15 percent of auto accidents. Some studies suggest that this increased risk of auto accident involvement is due to a decreased level of coordination and a slowing down of reflexes as a person ages.
Evidence also shows that seniors who are involved in an auto accident have a much higher chance of experiencing serious injury or fatality as a result of these injuries. The older a person is, the greater the risk. For instance, drivers who are in their mid-eighties or older are about nine times more likely to be killed in an auto accident than young adults and middle-aged drivers. This poses an extra risk to those senior citizens who are a victim of an auto accident as the result of another driver's reckless or negligent decision-making.
Seeking Compensation
When an auto accident occurs, there is likely to be heavy financial expenses, as well as significant stress and emotional hardships. The auto accident attorneys at Tawwater Law Firm can examine the details of a car accident to help prove liability so that victims can seek financial compensation for the range of damages that have been suffered, which may include property damage, medical expenses, lost wages, pain and suffering, funeral expenses, and the loss of support of a family member. While no amount of money can erase the damage of a car accident, our attorneys will fight hard to ensure that you are financially secure as you begin on the path of recovery.
Schedule a Consultation
If you have been injured as the result of an auto accident, it is important to seek legal representation as soon as possible. Our attorneys at Tawwater Law Firm can look at the details of your case and determine if legal action should be pursued. Schedule a consultation with one of our experienced car accident attorneys to learn more. We look forward to hearing from you.
Related to This