2013 Oklahoma Auto Accident Statistics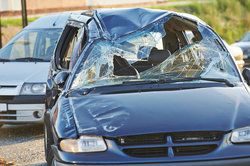 Here at The Tawwater Law Firm, we take all kinds of accidents seriously. We believe in fighting for all of the legal needs of injury victims throughout the state of Oklahoma. This is particularly important when helping a client in car accident lawsuit to obtain damages for medical bills and other losses.
We'd like to use this opportunity to go over some 2013 auto accident statistics from the Oklahoma Highway Safety Office. These numbers reveal just how dangerous our roads can be even for careful and attentive motorists.
An Overview: Oklahoma Traffic Collisions in 2013
Last year, there were a grand total of 69,430 auto accidents in the state of Oklahoma. Of this number, 621 fatal crashes occurred resulting in 678 deaths; 22,802 injury collisions occurred, resulting in 33,721 persons injured. There were 46,007 accidents in which there was only damage done to the vehicle or property within the vehicle.
Auto Accidents Involving Unsafe Speeds
Many accidents that occurred in 2013 were the result of driving at a higher speed than the posted speed limit. There were 9,420 accidents due to unsafe speed. Of this number, there were 144 fatal accidents related to speeding, resulting in 155 deaths. There were a total of 3,864 injury collisions, causing 5,698 injuries.
Do not become a statistic; be sure to drive at the posted speed limit and observe all rules of the road as well.
Auto Accidents That Involve Drunk Driving
Drunk driving is also a major danger on the roads, which is why it's always important to avoid driving while under the influence of alcohol.
Drunk drivers accounted for 3,824 auto accidents in Oklahoma in 2013. Of this number, 168 were fatal accidents, resulting in 189 deaths; 1,657 were injury collisions, with injuries sustained by 2,507 people.
Large Truck Accidents and Collisions
Large trucks are a part of everyday life, and given their size and weight, they can pose a major hazard to others on the road. Truck drivers, trucking companies, and regular motorists need to exercise extra caution when it comes to being on the road.
In 2013, there were a total of 5,182 auto accidents that involved large trucks. Of this total, 90 of the accidents proved fatal, resulting in the loss of 98 lives; 1,331 caused injuries, with 1,846 victims.
Distracted Driver Collisions (Cell Phones/Electronic Devices)
We've been hearing more and more about distracted driving accidents that involve the use of mobile devices and other handheld electronics lately, which makes sense as smart phones and tablets become part of our daily lives. Yet these conveniences and gadgets cause their fair share of auto accidents, which is why you need to avoid using them while behind the wheel.
Numbers from 2013 record 1,712 accidents that involved distraction from the use of an electronic device, such as a cellphone for making calls and texting. Of this number, there were 14 fatal crashes, 602 injury crashes, and 1,028 non-injury collisions.
The reason we bring this particular kind of accident up is that the numbers may increase as time goes on. The numbers show that most of these accidents involved young motorists, with drivers aged 16-24 involved in 675 electronic distraction accidents and drivers aged 25-34 involved in 453 such accidents.
Schedule a Consultation at The Tawwater Law Firm
For more information about your legal rights following a major auto accident, be sure to contact our personal injury law firm today. The team here at The Tawwater Law Firm look forward to hearing from you and helping you make sound legal decisions regarding your case.
Related to This