A Spinal Cord Injury Attorney Can Help You Secure Compensation
---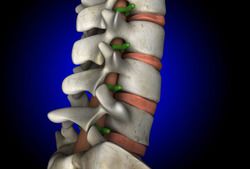 Spinal cord injuries can have a devastating impact on your life. In many instances, a victim may become dependent on family members, require extended medical care, and be unable to maintain employment. Those suffering with a spinal cord injury due to another party's negligence are entitled to fair compensation. The surest way to collect is with the help of a spinal cord injury lawyer. The attorneys at Tawwater Law Firm, PLLC in Oklahoma City, OK, will evaluate your case for free, and determine if it justifies further legal action. With our decades of expertise in personal injury claims, we have developed a reputation for securing much-needed restitution for our clients, while treating them with the compassion they deserve. To learn more about our firm, or to schedule your consultation, contact our office today.
About Spinal Cord Injury
A spinal cord injury, or myelopathy, is a disruption of the spinal cord that results in the loss or impaired function of sensation and mobility. Typically, a spinal cord injury causes life-long disability or paralysis at and below the site of injury. For example, an injury in the lower portion of the spinal cord can cause paralysis in the legs (paraplegia), and an injury near or at the neck can cause paralysis in both the arms and legs (quadriplegia). It is estimated that nearly 400,000 in the U.S. have spinal cord injuries, with 30 new injuries occurring every day.
Common Causes of Spinal Injury
A staggering 42 percent of spinal cord injuries are due to motor vehicle accidents, including car, truck, bicycle, and pedestrian accidents. About 22 percent result from falls. Other common causes include:
Slip and fall accidents
Construction accidents
Industrial accidents
Blunt trauma
Sports accidents
Assault, including stabbings and shootings
Diving into shallow water, including pools and lakes
Liability in Spinal Injury Cases
When a spinal cord injury occurs as a result of the negligent or reckless actions of another party, victims have the right to seek damages. Most accidents occur because of simple negligence, meaning there was no intent to cause injury, but careless actions created a potentially dangerous situation. Negligence can include failing to look in the rear view mirror before changing lanes, while drunk driving can be considered reckless.
Failing to maintain property frequented by visitors can be considered negligence. In a typical premises liability case, a business or store might ignore a potential hazard located on the premises. A customer then slips and falls down stairs, or is struck by a falling object, resulting in a spinal cord injury. When a store located in a known high-crime area fails to maintain working lights in its dark parking lot, and someone is assaulted in that parking lot, this can also be considered negligence.
Negligence can also be demonstrated when a spinal cord injury is caused by malfunctioning products or equipment. For example, if a car crash is the result of faulty tires or brakes, or airbags fail to deploy to protect the driver, manufacturers and other parties can be held liable. When an item is warranted to work safely and does not, there can be strict product liability on the part of the manufacturer, designer, and distributor.
Careless medical practice can also cause or contribute to a spinal cord injury. For example, if a doctor fails to recognize symptoms of a dangerous spinal condition that eventually leads to paralysis, the doctor may be held liable. Surgical and anesthesia errors have also resulted in devastating spinal trauma.
Determining Damages
The attorneys at Tawwater Law Firm are known for working aggressively to build compelling cases on behalf of our plaintiffs. Our thorough, personalized representation has earned our a reputation as leaders in personal injury and medical malpractice in Oklahoma.
We thoroughly investigate each case, combining advanced technologies with old-fashioned diligence. After years in legal practice, we have cultivated an extensive network of resources. We don't hesitate to bring in top national experts to help in analyzing and clarifying complex evidence. In addition to medical doctors, we work with experts who can vividly demonstrate the lifestyle implications of spinal cord injuries.
Most victims of spinal cord injury require years, if not a lifetime, of costly medical care. From surgery, medicine, and rehabilitation therapy to wheelchairs and computer devices to assist with daily living, the needs of a spinal cord injury victim are often vast and costly. Some victims require a full-time caregiver, a change of residence, or extensive remodeling of their home to accommodate their disability. The consequences extend to family members, and the impact cannot be overstated.
Spinal cord injury plaintiffs and their families can recover general damages and special damages. Potential areas of compensation include:
Medical bills, past and future
Lost wages and loss of earning capacity
Pain and suffering
Loss of enjoyment
Property damage
Life care costs
Loss of consortium
Punitive damages
Statistics show that spinal cord injury care costs more than $200,000 in the first year alone, and can reach millions over the span of a lifetime. Our record of verdicts and settlements demonstrates the types of compensation awarded to victims of catastrophic injury.
Protecting Victims' Rights
Although victims are entitled to file a claim for compensation related to their spinal cord injury, there is a statue of limitations, or a time period in which your lawsuit must be initiated. In fact, the clock starts ticking as soon as your injuries occur.
After the statute of limitations runs out, you permanently waive the right to file a claim, and it is extremely important that victims and their families seek legal advice as soon as possible. Quickly contacting our attorneys also helps us begin gathering the evidence, testimony, and other information critical to winning your case.
We are dedicated to protecting the rights of accident victims, and we are unconcerned with the size of the opposing insurance company or national corporation. We successfully handle cases against the largest companies in the world. We will do everything we can to assist you from the outset, including planning for the future and minimizing hardships as much as possible.
Contact Us Today
We know that the stress and financial burden placed on spinal cord injury victims and their families can be tremendous. Let the attorneys at Tawwater Law Firm, PLLC put our expertise to work for you, so you can focus on taking care of yourself and your loved ones. Schedule your free consultation with us today.