Truck Accident Attorney
Accidents involving commercial trucks can be catastrophic, resulting in debilitating injury, death, and astronomical financial losses.
A truck accident attorney can help victims collect compensation from negligent drivers, trucking companies, and manufacturers.
Why do so many victims turn to Tawwater Law in Oklahoma City, OK?
Due to their size and weight, commercial trucks are especially dangerous, causing catastrophic damages, injuries, and fatal accidents every year. If you or a loved one are seeking representation for a truck accident lawsuit in the Oklahoma City, OK, area, The Tawwater Law Firm, PLLC, can help. For nearly four decades, our attorneys have provided outstanding legal assistance for victims of trucking accidents.
We have a thorough understanding of this complex area of law and excel at identifying and proving liability in these cases. As your attorneys, we will pursue all avenues and hold at-fault parties responsible to secure the compensation you deserve. Please contact us today to learn more about our services and schedule a free consultation with an experienced personal injury lawyer.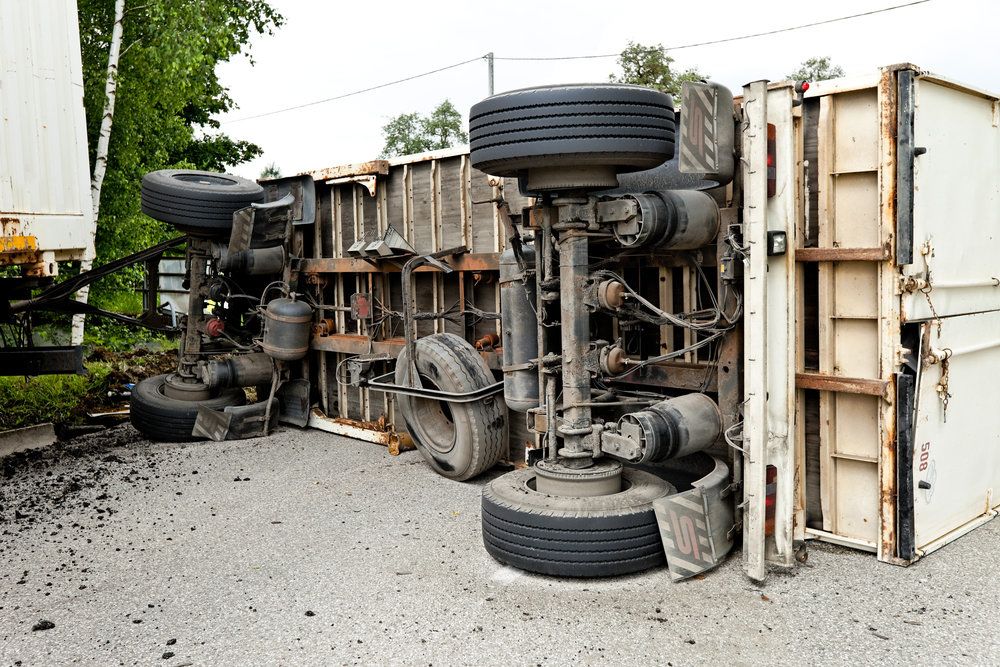 The Risks Associated with Large Trucks
Large trucks deal with a variety of issues that do not affect smaller vehicles. Long stopping distances, unwieldy turn radiuses, and substantial blind spots make trucks more difficult to navigate. While most truck operators are careful and patient drivers, they are faced with challenges on a daily basis.
Unfortunately, drivers of passenger vehicles do not always consider these challenges when steering around large trucks, putting themselves and the truck driver at risk. A variety of factors can come into play during a truck accident, including the actions of both truck and passenger vehicle drivers, weather and road conditions, and issues with the truck itself.
Truck Accident Statistics
It is not surprising that commercial trucks are over-represented in traffic accident statistics. According to the most recent (2013) numbers from the National Highway Traffic Safety Administration (NHTSA), large trucks accounted for only 4 percent of registered vehicles, but were involved in 12 percent of collisions. These accidents, which often involve multiple vehicles, injured 95,000, and killed 3,964 Americans in 2013.
In an accident between a multi-ton truck and a passenger vehicle, the smaller vehicle will always bear the brunt of the collision. In 2013, the majority of truck-related fatalities were occupants of the smaller vehicle (71%), or were non-occupant (11%) pedestrians or bicyclists. Injuries in these accidents tend to be devastating, including traumatic head injuries, burns, and spinal cord injuries.
A large number of interstate trucks use Oklahoma's roadways, and unfortunately, our truck accident statistics are higher than the national average. Large trucks were involved in 11.9 percent of Oklahoma traffic accidents in 2013, killing 112 people, and injuring hundreds more. According to the NHTSA, head-on collisions are the most common type of accident between a commercial truck and a car.
Common Causes of Truck Accidents
The Federal Motor Carrier Safety Administration (FMCSA) and the National Highway Traffic Safety Administration (NHTSA) conducted an extensive study into the causes of truck accidents. Common causes of accidents were broken down into driver performance, issues with the vehicle, and environmental conditions. In many cases, decisions on the part of the trucking company also contribute to an accident.
Driver Performance
In over 80 percent of crashes analyzed, driver performance was a critical reason for the crash. Negligence behind the wheel can occur on the part of the truck driver or other vehicles on the road. Common dangerous behaviors include:
Inattentive driving
Following another vehicle too closely
Speeding
Changing lanes improperly
Use of drugs or alcohol
Fatigued or drowsy driving
Driving in truck "no-zones"
Unsafe passing
All vehicles on the road are required to act with caution and follow the basic rules of road safety. If your accident was caused by the actions of another driver, our truck accident attorneys can help you collect compensation for your injuries and the damage to your vehicle.
Issues with the Vehicle
Truck drivers and their parent companies are required to perform proper maintenance to ensure the trucks are in good working condition. Many types of mechanical and loading issues can contribute to a truck accident, such as:
Defective brakes
Improper loading
Bad tires
Improper maintenance
A large truck blowing a tire on the freeway can cause a massive accident, and so can cargo shifting suddenly on a turn. Our team can determine whether to hold the manufacturer of a certain automobile part responsible or seek compensation from the trucking company or driver for failing to maintain the safety of the vehicle.
We have connections with experts in accident recreation who can investigate the root cause of your accident and seek compensation from the right source.
Weather and Road Conditions
When environmental conditions change, accidents can occur. Rain, ice, or poorly maintained roads require more carefully driving. The type of environmental condition which caused your accident can affect who we can hold responsible. We have connections with experts in accident recreation who can investigate the root cause of your accident and help us seek compensation from the right source.
Negligent Behavior by the Trucking Company
The trucking industry is subject to various rules and regulations intended to promote the safety of truck drivers and other vehicles on the road. Unfortunately, companies often ignore these regulations to improve their bottom line. Certain behaviors on the part of the trucking company can lead to accidents, including:
Failure to provide adequate training
Unrealistic schedules, which encourage drivers to hurry despite the risks
Compensation systems that promote faster vehicle speeds
Refusal to provide sufficient breaks for drivers to rest
When drivers hurry to meet schedules and ignore safety concerns, serious or even fatal accidents can result. We can help you hold the trucking company responsible for improper actions and secure compensation.
Regardless of the unique circumstances surrounding your accident, the experts at Tawwater Law Firm, PLLC can perform a thorough investigation to determine its cause, and build a successful legal case.
A Complex Area of Law
Driving Regulations
The commercial trucking industry is regulated by the Federal Motor Carrier Safety Administration (FMCSA). The laws put forth by the FMCSA are intended to make the roadways safer for motorists and commercial truck drivers alike. FMCSA regulations cover commercial truck drivers, their vehicles, and truck companies. These regulations are far-reaching and encompass everything from fees and record retention, to highly detailed standards of maintenance and safety. FMCSA regulation of commercial vehicles applies to every party responsible for:
Management
Maintenance
Operations
Driving
Hiring, supervising, assigning, training, and dispatching drivers
The driving regulations include sections on general safety procedures, as well as specific issues, such as prohibited practices, and the maximum number of consecutive hours a commercial truck driver can operate a vehicle. A thorough understanding of these federal driving regulations is critical in building a successful trucking accident case. For instance, violations of laws concerning driving hours, weight limits, and regular maintenance requirements can make the difference between a claim resulting in significant compensation, or a lost case.
Regulations on Vehicles and Related Companies
In addition to driving regulations, the FMCSA is responsible for enforcing:
Emission standards
Transportation of hazardous materials
Parking rules
Very specific vehicle safety standards
The success of trucking accident lawsuits is often contingent on regulations dictating how a trucking company must be established and operated. The federal regulations for trucking companies are extensive, and include information on the minimum levels of financial responsibility that must be carried via insurance policies.
Involvement of Multiple Parties
In addition, trucking cases involve multiple parties, their insurance representatives, and defense lawyers. Depending upon the circumstances of an accident, these parties might include the truck driver, truck owner, motor carrier, manufacturer of defective truck parts, or manufacturers or distributors of freight carried by the truck. It is important that you have legal representation to fight for your rights.
As experienced truck accident attorneys, we can investigate records and obtain documentation and witness statements. This substantiating information can include whether or not a driver worked beyond the accepted hours of service, cargo weight restrictions were violated, or driving logs were tampered with. These factors can provide crucial evidence that can dramatically swing a case in the plaintiff's favor.
Damages and Compensation
Oklahoma's civil courts uphold a victim's right to collect fair compensation for damages caused by the negligence or wrongdoing of another party. These legal damages may include medical expenses, loss of wages, pain and suffering, and more. If a close family member was killed, you may be entitled to wrongful death damages for losses you suffer now and well into the future. In some cases, additional punitive damages may be awarded as a deterrent to gross negligence or willful misconduct by trucking corporations.
At Tawwater Law Firm, PLLC, we believe in civil justice for victims and fight to maximize recoveries for our clients. Money cannot change an unfortunate circumstance, but it can ease healing and recovery as you move forward. It is our policy to handle trucking accident cases on a contingency basis. You will pay no up-front legal fees. Our attorneys receive payment only when you receive your settlement or jury award.
We encourage our injured clients and their grieving families to focus on healing and leave the insurance and legal matters to us.
What We Can Do for You
If you are involved in a trucking accident, It is important to contact us as soon as possible. Ideally, we can begin investigating the incident immediately, gathering evidence, issuing records subpoenas, and interviewing key witnesses. We work diligently and strategically to prove liability and to substantiate your damages. To determine if the vehicle, its driver, and the operating company were in compliance with the law, we will investigate:
Driver training
Driving hours
Weight restrictions
Drug and alcohol violations
Truck maintenance
Lane restrictions
As part of your case, we may collaborate with authorities across a range of fields relating to trucking accidents, including engineers and accident reconstruction experts.
Why Choose The Tawwater Law Firm?
Our firm has a long-standing reputation for thorough, successful representation in truck accident lawsuits. Each year, we handle several serious truck accident cases, including incidents that have happened on Interstates 40, 35, 44, and the Turner Turnpike. In decades of practice, we have secured many multi-million dollar verdicts and settlements for clients. Backed by experience, knowledge, resources, and a proven record of results, we are simply not intimidated by high powered insurance firms and national corporations. We will take on any opponent, no matter how large, in order to deliver the restitution our clients deserve.
We encourage our injured clients and their grieving families to focus on healing and leave the insurance and legal matters to us. Our attorneys and staff work tirelessly to ensure that our clients receive adequate medical care to maintain the highest quality of life possible. If needed, we bring life care specialists in to analyze a victim's needs in order to help them fully recover and retain their independence.