An Aggressive Car Accident Lawyer Representing Your Claim
---
Every year, thousands of Americans become victims of car accidents that result in serious injuries and even death. A serious car accident can be one of the most frightening and traumatic experiences of your life. In addition to the physical pain and stress you may face, medical expenses and the navigation of complex insurance claims can compound your hardship. If you or a loved one believe you have grounds to file a lawsuit, the car accident lawyer team at the Tawwater Law Firm in Oklahoma City, OK, can provide the outstanding legal services you need. Backed by nearly 40 years of experience, our attorneys have successfully represented hundreds of accident victims. Our aggressive approach in the courtroom, combined with genuine compassion for our clients, can help relieve your burdens while getting you the settlement you deserve. To learn more about what our services can do for you and your family during this difficult time, contact The Tawwater Law Firm today.
Common Causes of Automobile Accidents
Identifying and documenting the cause of an automobile accident is one our key concerns. Some of the most common causes of auto accidents include:
Cell phone use, including talking, texting, and checking the Internet
Driving under the influence of alcohol or drugs
Unsafe driving and traveling at excessive speeds
Distractions, including adjusting music or eating
Attempting to retrieve items on the floorboard or in another seat
Looking at something other than the road, such as scenery
Reading notes and other materials
Distractions from other passengers
Typically, car accidents are not the result of mechanical malfunction, and instead are due to driver error. We can provide exceptional representation for car accident victims in both product liability and driver negligence cases, as well as other types of vehicle accidents, including truck accidents and SUV roll-overs.
A Closer Look at Drunk, Distracted, & Reckless Driving
Drunk Driving
In the state of Oklahoma, driving under the influence (DUI) of drugs or alcohol or driving while intoxicated (DWI) is illegal. First time offenders with a blood alcohol concentration (BAC) of 0.08 or greater can be charged with a type A misdemeanor. Drivers convicted of a second DUI face a felony offense. Even those with a BAC lower than the 0.08 legal limit can still have criminal charges filed against them. For instance, reckless driving charges may be brought against drivers with a BAC of 0.06 to 0.07. Under the state's zero tolerance law, it is illegal for drivers under the age of 21 to have a BAC above 0.0.
Distracted Driving
Distracted driving is defined as driving a motor vehicle while engaged in another activity. This can include talking on the phone, using a navigation system, or eating. One of the most dangerous and common forms is texting while driving. Reading, composing, and sending a text involves each main type of distraction: visual, manual, and cognitive. As a result, a driver who is texting is not looking at or thinking about the road as they should, and he or she does not have the both hands on the wheel.
This behavior is particularly prevalent among younger drivers. According to the National Highway Traffic Safety Administration (NHTSA), drivers under the age of 25 are considerably more likely to text while driving than all other age groups. An astounding 71 percent of teens and young adults (ages 21 to 24) admit to having composed and sent text messages while driving. Nearly 80 percent from the same age group say they have read a text message while driving. The incidence of texting while driving falls with every age group, and less than one percent of drivers 65 and older report that they text while driving.
Reckless Driving
Oklahoma law defines reckless driving as, "any operation of a motor vehicle that exhibits reckless, wanton or willful disregard for the safety of other people and their property." Not to be confused with the criminal offense "road rage," reckless driving refers to traffic offenses. In the state of Oklahoma, reckless driving is a misdemeanor. Common behaviors associated with reckless driving include:
Tailgating
Excessive speeding
Failure to indicate lane changes
Excessive lane changes
Failure to stop at red lights
Passing traffic on the shoulders of the road or emergency lanes
Rear-end Collisions
An accident is considered a rear-end collision when a vehicle hits another vehicle directly in front of it while both were moving in the same direction. It is generally easier to prove who is at fault in a rear-end collision compared to other accident types. Nonetheless, it can be difficult to prove that injuries were a result of the collision. Injuries sustained at low speeds often include whiplash and lacerations and bruising to the face and head as a result of airbag deployment. At higher speeds, passengers in the front car usually endure more serious injuries, which often involve:
Closed head injuries
Neck and back injuries
Closed head injuries
Traumatic brain injuries
Spinal cord injuries
Nerve damage in the legs or back
Blunt-force trauma
What to Do After a Car Accident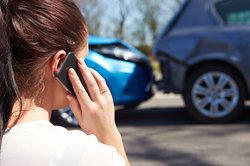 After an accident, the immediate concern is the safety of the drivers and passengers. Contact emergency responders if there has been an injury. If possible, be sure to move your vehicles out of traffic lanes, preferably to the side of the road, rather than the median.
At the scene of the accident, do not make comments about your possible liability, and be sure to collect as much information as possible, including the names, addresses, driver's license number, and insurance information of the other drivers. It is also important to take pictures of your surroundings and any damage to your car. If possible, take notes detailing the accident while it is fresh in your mind, and contact an attorney as soon as you can.
Recovering Compensation
At the Tawwater Law Firm, we understand that no amount of monetary compensation can make up for health issues resulting from a car accident, or the passing of a loved one. Instead, our goal is to help you recover compensation that can get you back on the path to recovery.
The total cost of an automobile accident can be staggering, including medical expenses, funeral arrangements, loss of family support, personal property damage, lost wages, and more. This financial fall-out can create monetary and personal uncertainty for individuals and their families. We are here to help, and our legal expertise can help secure the financial means you need to move forward.
Contact Us to Schedule a Consultation
We understand that the effects of car accidents can be overwhelming and life-changing. By partnering with our firm, your case will be exceptionally represented, and in some cases, can often be settled out of court. Contact our firm today to learn more about pursuing compensation for your car accident.