Hospital Negligence Lawyers
A hospital error can cause serious lifelong injuries. Medical errors are also a leading cause of death nationwide.
When medical negligence causes you or a loved one to become injured, the team of lawyers at the Tawwater Law Firm can help.
What can an attorney do for me?
Seeking Justice for Injuries Caused by Hospital Errors
Numerous studies have shown that admission to a hospital can be hazardous to your health. Statistics vary widely, but hundreds of thousands of U.S. patients are reportedly injured or killed each year because of preventable harm caused by hospital personnel or equipment.
Any injury or wrongful death caused by hospital error should be investigated by an experienced medical malpractice law firm. The victims of this type of tragedy deserve the full compensation that they are entitled to under civil law. If you or a family member have suffered at the hands of negligent medical personnel, Tawwater Law Firm, PLLC offers expert help from our team of competent hospital negligence lawyers. To learn more about how we can represent you in a hospital error lawsuit, contact our Oklahoma City office today.
What Causes Hospital Error?
There are many types of accidents and mistakes that can happen in a hospital setting. Doctors, nurses, and technicians literally hold patients' lives in their hands, and must be held to an extremely high standard of care. Inadequate training or supervision can result in errors. A tragic incident can also be the result of bad hospital policy. Adverse drug events, infections caused by contaminated equipment, and ventilator-associated pneumonia are among the most common examples of patient harm caused by negligence in a hospital setting.
Other types of errors that can occur in a hospital setting include:
Anesthesiologist errors
Contaminated drugs
Improper use of medical equipment
Equipment malfunction
Insufficient patient supervision
Inadequate post-op care
Obstetrical errors during delivery of a baby
Birth injuries such as cerebral palsy
Artificial insemination with the wrong donor sperm or egg
Patient injury caused by a fall or being dropped
Failure to communicate or follow up on test results
Misreading of a patient's chart
Restraint or bed rail injuries
MRI injuries
Surgical items left inside patient
Surgery performed on the wrong patient or wrong body part
Anesthesia Errors
Anesthesia errors can cause life-threatening injuries, including brain damage, heart attacks, and even spinal cord damage. Our attorneys understand the physical, emotional, and financial hardships you are facing and will provide you with the personalized attention your case deserves. If you or someone you loved suffered severe injuries as a result of an anesthesia error, our attorneys can fight for you.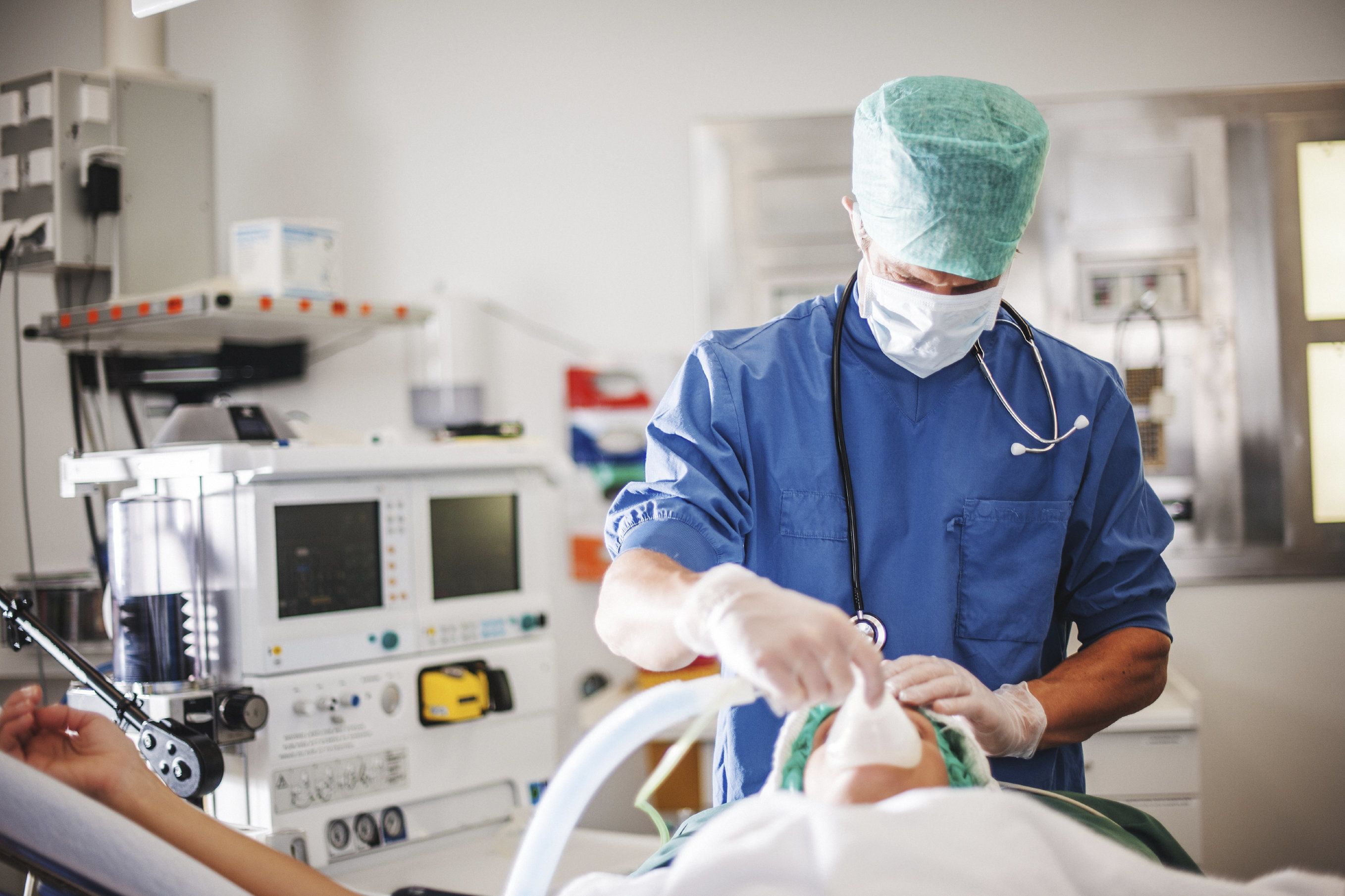 Types of Anesthesia
The strengths of medication used in medical treatments range from numbing pain in a particular body part to creating a medically induced unconsciousness. The type of anesthesia used can vary greatly depending on the type of procedure being performed. Simple, outpatient procedures may only require a local anesthetic, while lengthier and more invasive procedures may require general anesthesia. The most common types of anesthesia include:
Local Anesthesia:

This type of anesthesia numbs a small area of the body, such as a tooth and gums during a root canal procedure. It does not affect consciousness or memory.

Regional Anesthesia:

A regional anesthetic may be used to numb larger areas of the body, such as an entire limb. As with local anesthesia, it does not cause any unconsciousness, nor does it have an amnesic effect.

Dissociative Anesthesia:

Although this type of anesthesia does not result in unconsciousness, it does create a half-awake state. In addition to numbing pain, this may also have an amnesic effect, so patients have little memory of the procedure.

Spinal or Epidural Anesthesia:

This form of anesthesia, injected near the base of the spinal cord, numbs pain while allowing patients to remain fully alert.

General Anesthesia:

While under general anesthesia, patients not only experience no pain, but they are temporarily unconscious. As a result, patients have no memory of the procedure.
Anesthesia can be very safe if those administering it follow all safety protocols and properly monitor the patient during and after the procedure. However, some medical professionals are negligent in their duties and patients are the one to suffer.
Injuries Resulting from Anesthesia Errors
When a doctor, nurse, or anesthesiologist is negligent when administering anesthesia or monitoring a patient, serious, life-threatening injuries can occur. Brain injuries are one of the most common, as they can result from asphyxia, or lack of oxygen. Asphyxia can lead to an aneurysm, stroke, memory loss, and other serious complications.
These grave errors can also result in a patient suffering a heart attack or spinal cord injury. An injury to the spinal cord can cause permanent paralysis of large portions of the body. In severe cases, patients may go into a coma, which can result in death if appropriate actions are not taken promptly.
For more than 36 years, The Tawwater Law Firm has represented victims of medical malpractice and other forms of negligence.
Proving Liability
In medical malpractice cases, we rely on expert testimony from some of the top health care providers in the area. With their assistance, we can prove the anesthesiologist or other medical professional acted negligently, causing your injuries. In some cases, the hospital may also be liable. Whether the hospital can be held liable depends on whether the anesthesiologist was an employee or independent contractor. If, however, our experts determine an equipment malfunction was the culprit, the hospital may be found negligent in its equipment maintenance and thus held accountable.
Emergency Room Errors
Emergency room doctors and other medical staff are specially trained to deal with life-threatening situations quickly and competently. In the urgent, hectic environment of a hospital emergency room, it is understood that mistakes may occasionally be made. However, if a patient suffers injury or death because of ER negligence, a medical malpractice lawsuit is a reasonable response.
Emergency room patients can be the victims of misdiagnosis, improper monitoring, medication errors, and other potentially harmful or fatal mistakes. Our outstanding attorneys can represent you in an emergency room error lawsuit.
What Constitutes an Error?
It is the responsibility of ER personnel to stabilize the patient and determine if he or she needs to be admitted to the hospital for further care. Sometimes, an emergency room doctor overlooks a significant medical problem, failing to properly diagnose a patient. The patient may be discharged and told there is nothing wrong, resulting in potentially serious consequences. In other cases, a patient may be given a medication that causes an adverse reaction because of an allergy or interaction with other medications being taken. This may happen because a nurse or other personnel overlooked vital information provided by the patient on an admission form.
A hospital emergency room that turns a patient away without treatment is in violation of federal law and potentially guilty of medical malpractice. Any hospital that receives Medicare funding, which most all do, is subject to the rules of the Emergency Medical Treatment and Active Labor Act (EMTALA). Under EMTALA, the emergency room cannot turn anyone away, regardless of the person's ability to pay. Even if the ER transfers the patient to another hospital, liability can be found if the patient suffers from lack of immediate treatment.
Establishing Negligence
First responders in an emergency, including paramedics, firefighters and ambulance crew, are generally exempt from medical malpractice lawsuits. However, first responders can still be subject to malpractice if it can be proven that their reckless disregard or blatant negligence was the cause of a patient's injury or death. First responder protection does not extend to doctors and employees of a hospital emergency room.
Not every patient can be saved in an emergency situation, and for medical malpractice to be found, a doctor or staff member must be shown to have behaved negligently. To establish negligence, it must be proven that a competent individual under the same circumstances would not have made the same mistake.
Focus on Your Recovery with a Medical Malpractice Lawsuit
In medical malpractice, it must be proven that negligence led to the error committed by the hospital or its employees. Our firm leaves no stone unturned in investigating your case, using reputable medical and forensic experts, if needed. We encourage our clients to concentrate on rebuilding their lives and leave us to handle the legal issues, without concern about cost. Our services are offered on a contingency basis, meaning you don't pay any fees unless and until we achieve a settlement or jury award.
Victims of hospital error are entitled to compensation for all injuries and losses. This may include medical expenses, loss of present and future income, and pain and suffering. In the case of wrongful death, compensation may also be awarded for loss of companionship and long-term financial support, funeral expenses, and more.
Tawwater Law Firm, PLLC confidently handles the most complex of medical malpractice cases, with no hesitation in taking on the national insurance companies or big-name medical establishments. With decades of experience, we have plenty of resources and a reputation for results.