Aggressively Representing Your Spinal Cord Injury Lawsuit
---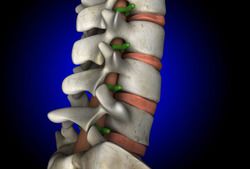 Spinal cord injuries can have a permanent impact on your quality of life. In many instances, a victim may become dependent on family members, require extended medical care, and be unable to maintain employment. Those suffering with a spinal cord injury due to another party's negligence are entitled to fair compensation. If you or a loved one think you may have grounds to file a spinal cord injury lawsuit, the attorneys at Tawwater Law Firm, PLLC in Oklahoma are here for you. We can evaluate your case for free, and determine if it justifies further legal action. With our decades of expertise in personal injury claims, we have developed a reputation for securing much-needed restitution for our clients, while treating them with the compassion they deserve. To learn more about our firm, or schedule your initial consultation, contact our office today.
Defining Spinal Cord Injury
A spinal cord injury, or myelopathy, is a disruption to the spinal cord that results in the loss or impaired function of sensation and mobility. Typically, a spinal cord injury causes life-long disability or paralysis at and below the site of injury. For example, an injury in the lower portion of the spinal cord can cause paralysis in the legs (paraplegia), and an injury near or at the neck can cause paralysis in both the arms and legs (quadriplegia). It is estimated that nearly 400,000 people in the U.S. have spinal cord injuries, with 30 new injuries sustained everyday.
Common Causes
A staggering 42 percent of spinal cord injuries are due to motor vehicle accidents, and about 22 percent result from falls. While nearly any trauma to the spinal cord can result in catastrophic injury, the most common causes are:
Motor vehicle accidents, including car, truck, bicycle, and pedestrian accidents
Slip and fall accidents
Construction accidents
Industrial accidents
Blunt trauma
Sports accidents
Assault, including stabbings and shootings
Diving into shallow water, including pools and lakes
Determining Damages
Most victims of spinal cord injury require years, if not a lifetime, of medical intervention. From surgery, medicine, and rehabilitation therapy, to wheelchairs and computer devices to assist with daily living, the needs of a spinal cord injury victim are often vast and costly. When a spinal cord injury occurs as a result of negligence, victims have the right to seek damages. Our lawyers can help you recover compensation related to:
Medical bills
Lost wages
Pain and suffering
Property damage
Our thorough, personalized representation of our clients has earned us a reputation as a leader in personal injury and medical malpractice in the state.
Protecting Victims' Rights
Although victims are entitled to file a claim for compensation related to their spinal cord injury, there is a statue of limitations, or time period your lawsuit must be initiated in. In fact, the clock starts ticking as soon as your injuries are sustained. After the statute of limitations runs out, you permanently waive the right to file a claim and it is extremely important that victims and their families seek legal advice as soon as possible. Quickly contacting our attorneys also helps us begin gathering the evidence, testimony, and other information that is critical to winning your case.
Contact Us Today
We know that the stress and financial burden placed on a spinal cord injury victim and their family can be tremendous. Let the attorneys at Tawwater Law Firm, PLLC bring our expertise to work for you, so you can focus on taking care of yourself and your loved ones. Schedule your free consultation with us today.